CardValet®
Your card, on your terms
CardValet® allows you to turn your debit card "on" or "off" anytime. When they are "off"..... no one can use your cards. Turn them "on" when you are ready to use them.
Helps safeguard your cards from fraud.

Let's you define areas where your card can be used.

Limit purchases by the type of merchant.

Set limits on the dollar amount of transactions.
Instantly change your setting via your mobile phone, giving you complete control over your debit card.
Learn more about CardValet® by viewing this brief demonstration video.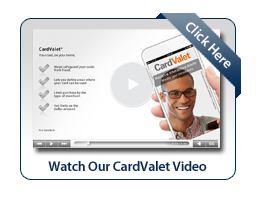 Please note:
Businesses may use CardValet®.
CardValet® does not override First State Bank's other fraud protection measures, but is an addition to them.