Important Phone Numbers
Whether you're searching for the number to call if your card is lost or stolen or you just need to know who to notify when you travel, the information below will answer your questions and give tips for keeping your card safe.
Monday thru Friday, 8 a.m. to 5 p.m.

After hours, weekends and holidays:

800-472-3272 to report a lost or stolen debit card

800-262-2024 if your card has been blocked

To activate and/or set a PIN for your debit card:
For verification, please call from a number associated with your account at First State Bank. Please call us if you plan to use your debit card internationally. As a precaution, we do not allow foreign country transactions unless notified by the customer prior to travel outside the U.S.
Debit Card Fraud Notification
Interactive (two-way) text alerts keep your accounts safe.

Using your First State Bank card is simple. Now, fraud monitoring is just as seamless.

Our fraud monitoring network watches for suspicious or unusual transactions

If a suspicious transaction appears on your card, you'll receive a text asking if it's legitimate

Text back to confirm or deny the transaction

Simple, quick and easy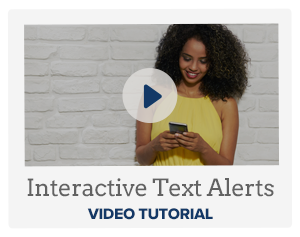 Manage My Cards
Your card, on your terms
Staying in control of your cards is easier than ever. Manage My Cards offers you an all-in-one dashboard for managing your cards and how they are used, viewing your transactions, and staying informed.
View spending by categories, monthly trends, and locations

Easily lock and unlock cards

Restrict purchases to locations, merchant categories, or transaction types

Set up alerts based on transaction types, merchant categories, locations, or even spending limits

Set travel plans

Report cards lost or stolen and order new ones
Learn more about Manage My Cards by viewing this brief demonstration video.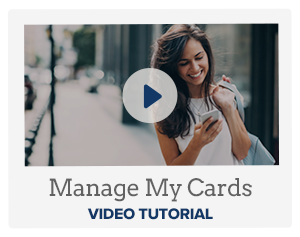 Please note:
Businesses may use Manage My Cards.
Manage My Cards does not override First State Bank's other fraud protection measures, but is an addition to them.

If you are not using the latest version of our mobile app, you will not be able to access Manage My Cards. To update to the latest version, please follow the instructions below:

When you open your First State Bank mobile app, you will be asked if you would like to update to the current version of the app. Click "Update Now". You will then be redirected to your app store where the update will automatically start. If you were not asked to update to the current version, you will need to open the First State Bank mobile app within your app store (GooglePlay, AppStore, etc.) and click the blue "Update" button.

Once you have updated your app, click "Open" and you will be redirected to the First State Bank mobile app.

After you log-in, you will have a window showing you "What's new" and will have the option to tour Manage My Cards and all it has to offer.

Manage My Cards can be found on the main screen of your First State Bank mobile app under "Quick Links".
ATM Withdrawals
You can make an ATM withdrawal at any of our six locations or any Austin Bank without incurring any fees. A list of our six locations can be found here.
Debit Card Rewards Program
First State Bank Rewards is the program that rewards you for using your debit card. Consider it our little "Thank You" for being a loyal customer. It's easy! We'll give you points for simply using your First State Bank Debit Card to purchase merchandise or services. Then, redeem your points and receive great gifts and merchandise. fsbathensrewards.com.
Custom Debit Cards - Reflect YOUR Style
Get a card that's as unique as you are. We now offer a wide variety of custom designs from animals to hobbies. Choose a design to customize your debit card and add a little fun to your wallet!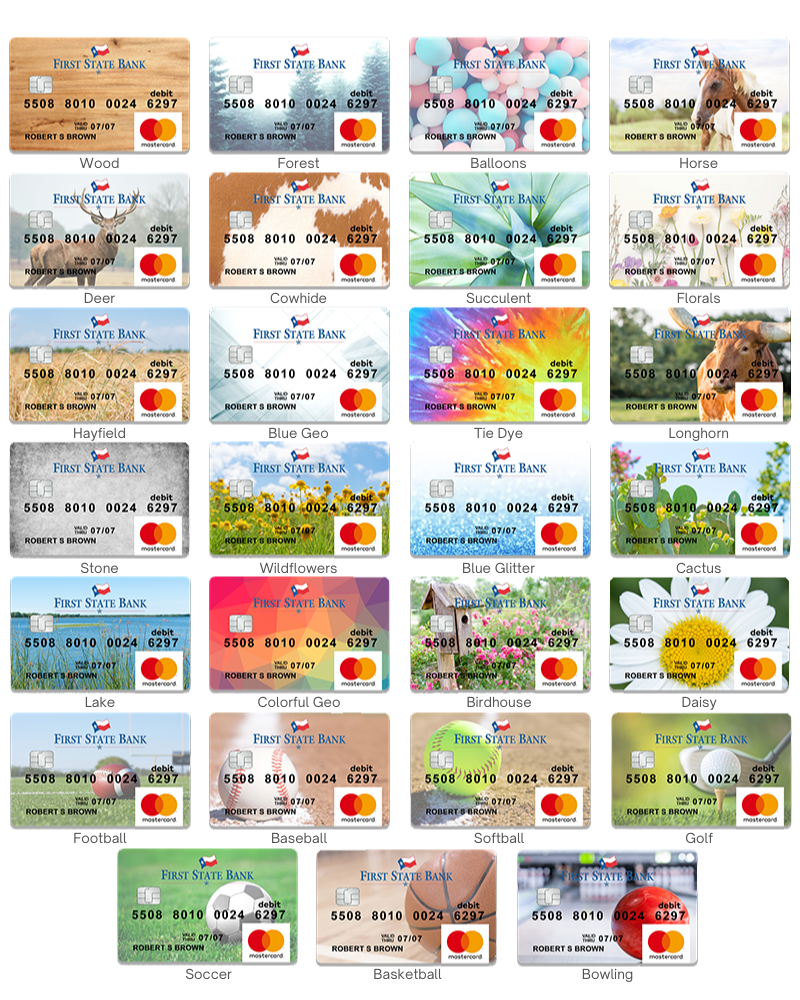 Custom Debit Card Fees
A standard (non-custom) debit card will be issued when opening a new account at no charge.
Cost per customized card - $10
Expiring card - $10 to replace with custom image
Lost/stolen card - $10 to replace with custom image
FAQ's
Contact any branch to order.

Normal processing and delivery times will apply. Customer pick up instant issued cards are available for an additional $20.00.
Who do I contact to reset my pin?
The card owner can have the pin reset at any of our branch locations during normal business hours. If this is a new card, you can start using it once it is activated and a PIN is selected by calling 1-800-992-3808. For verification, please call from a number associated with your account at First State Bank.
Do I need to notify the bank when I travel?
Yes, it is recommended that you notify the bank (903 676-1900) before you travel to prevent a fraud alert from being placed on your account. An alert can be removed by contacting 1-800-472-3272. You can also set travel plans through our mobile app's Manage My Card feature.
Do I have a daily access limit on my debit card?
Each personal account cardholder has access up to a $1,000 daily cash limit for ATM transactions and $3,000 for daily point of sale transactions.
Each business account cardholder has access up to a $1,000 daily cash limit for ATM transactions and $3,000 for daily point of sale transactions.
The same withdrawal limits apply for both Saturday and Sunday transactions. Please be aware that your available balance is subject to the date your transaction is processed by the merchant. This amount is generally sufficient for most debit card users. If you need a higher limit, please contact us at 903-676-1900 or email us at customerservice@fsbathens.com and we will be glad to work with you to increase your daily limit.
What is my credit card secure code, as requested for online purchases?
For Visa, MasterCard, and Discover cards, the card code is the last 3 digit number located on the back of your card on or above your signature line.
What is the cost of replacement card?
A fee of $10.00 will be charged for each new card re-issued.
How do I get a new card?
Contact a new account representative at any of our locations.